The Fall That Transformed Our Lives, Lifting Me Through Grief, Love and Quadriplegia.
Beth's life completely changed in a split second when her partner crashed on his mountain bike and broke his neck. The story begins when Michael doesn't return for dinner while riding a Colorado Trail. Search and Rescue find him and transport him to the nearest hospital. With severe spinal cord injuries, he's left paralyzed from the neck down. Beth must navigate the complex world of quadriplegia while coming to grips with the new role she's been thrust into, from partner to caregiver.
She's dropped into a crevice of deep grief and finds herself in an unexpected apprenticeship with sorrow. She clings to her mantra of many years—Love What Is. A state of surrender that is easy to say but so hard to practice. Because how do you love quadriplegia? And furthermore how do you befriend grief?
Life Upside Down traverses uncategorized grief, mired in the confusion of non-death related loss. Michael was still alive, but so much of their life had died. Both face immense physical and emotional challenges but they never lose sight of their love for each other and their determination to persevere, In fact, it propels them forward. 
Beth seeks out-of-the-box ways to cope. She finds the West African Dagara Grief Ritual and walks part of the Camino de Santiago in France and Spain. She shares the ups and downs of her journey with honesty and irreverent humor. This is a story of hope, of overcoming adversity and of the power of love to heal even the most profound wounds.
Life Upside Down is a must-read for anyone facing major loss or life transition. It's a testament to the enduring power of the human spirit and the boundless capacity of the human heart to love and to heal. Ultimately, it's about the medicine grief has for us if we open to it.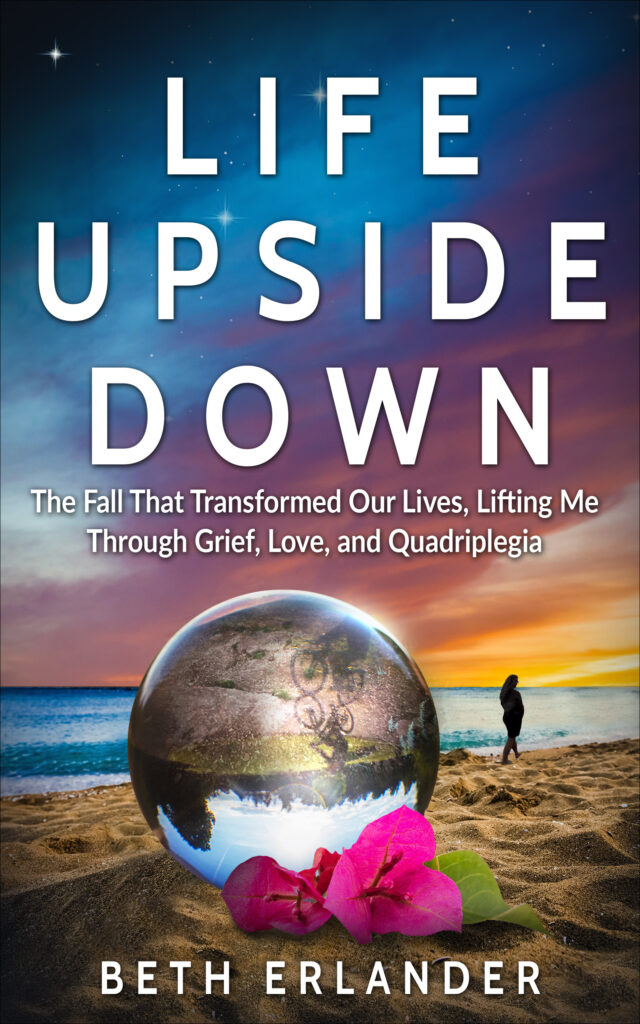 Beth Erlander, MA, LPC, is a Licensed Professional Counselor in the state of Colorado. She's also an Art Therapist and Creative Grief Support Practitioner.
She's a grief creatrix who uses both traditional and out-of-the-box ways to help her clients with grief. Grief is soul work which is slow work. Grief is medicine.
She's been a therapist for 24 years yet her greatest training came when her partner became a quadriplegic. Being pulled into an apprenticeship with grief gave her the tools she uses now to help others befriend grief. She uses ritual, connection to the natural world, creative arts, and traditional tools like talk therapy, somatic work and eye movement desensitization and reprocessing (EMDR).
She runs an online group called Tending the Tenders-grief support for therapists and wellness practitioners where she helps them learn to hold grief better for themselves and their clients. She also runs other grief groups for anyone wanting to do sacred grief work.
Currently her work is pivoting to include more connection to Spirit and the Ancestors. She's working with a few shamanic practitioners to expand her skills and experience.
She's also combining her work with her partner Michael who holds the body energetically and physically. Stay tuned to their joint sessions and offerings in the near future.
Beth has been adopted by a black cat named Slinky. She's also an artist, gardener, and lover of the land near her home in the foothills of the Rocky Mountains. When she's not tending to her clients or writing she can be often seen walking the same trail near her home or hugging trees.
This is her first book.
Sign up to receive her newsletter or contact her at 
Stay Involved with Beth Erlander and
Life Upside Down:
The Fall That Transformed Our Lives, Lifting Me Through Grief, Love and Quadriplegia.